Typhoon System:
Typhoon® System is a new, patented, cyclone based concept developed to reduce shear forces and the emulsification of oil and water. Typhoon® System has, through several years of experimental investigations, documented a significant positive effect on downstream oil and water separability and quality. By turning the flow into a cyclonic motion you will get a more gentle pressure decrease. Typhoon System can replace both a conventional choke and control valve.
PERFORMANCE COMPARISON:
By decreasing pressure more gently, Typhoon® System improves oil-water separation. The results from various tests show that performance improvement is observed across a range of flow conditions (various water cut %) and operational conditions (various valve opening %).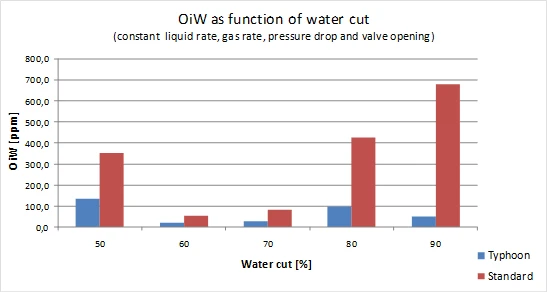 User benefits:
The business benefits of using Typhoon® System are:
Improved oil-water separation
Reduced water in exported oil (less WiO)
Reduced oil in produced water (less OiW)
Reduced need for separation enhancing production chemicals 
The Typhoon® System is designed and manufactured by the leading international supplier,
Mokveld Valves BV
. Typhoon System is designed to easily replace conventional chokes or control valves, both axial and angled valves.
Replacing today's conventional valves with the new Typhoon® System offers a cost efficient solution to enhance separation efficiency and reduce environmental impact with regards to produced water discharge.   
Where to use it?
Typhoon® System is a flow control system like any conventional choke or control valve. Typhoon® System is therefore considered for use in all applications where standard valves are used today. In optimizing oil-water separation, Typhoon® System can advantageously replace conventional choke or control valves located upstream main separation equipment or produced water treatment equipment, i.e. upstream large three-phase separators, hydrocyclones, degassers, flotation units, etc.