LOW SHEAR PUMPS
Conventional centrifugal pumps are known to break oil droplets while pumping produced water. The consequence is that the efficiency of the downstream produced water treatment processes is reduced. Often positive displacement pumps, like eccentric screw pumps, are used to counteract oil droplet breaking. Drawbacks of positive displacement pumps, however, are often high maintenance requirements.

Typhonix has together with the oil companies Vår Energi, ConocoPhillips, Equinor, Neptune Energy and the Research Council of Norway, developed separation friendly centrifugal produced water pumps. The low shear centrifugal pumps are developed for produced water applications, and through extensive testing, Typhonix has shown that it is possible not only to make a pump which does not break droplets, but also enlarges oil droplets during pumping. Due to the robust design in accordance with API 610, these pumps have large OPEX benefits compared to low shear positive displacement pumps.
Produced water pump case study
A case study based on an actual produced water pump application has been performed to evaluate the operational and economic benefits of low shear and coalescing produced water pump types, compared to that of conventional produced water pumps.
Produced water pump case study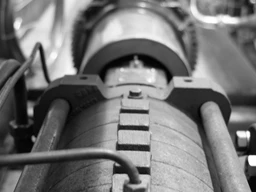 Low shear pump selection considerations
This article is intended to give a compact overview of some of the main factors involved in the pump selection. References to relevant articles are added for further reading. The topics discussed are; evaluation of the pump types, a discussion on the level of low shear that is acceptable, and evaluation of pump turndown solutions.
Low shear pump selection considerations