LOW SHEAR/COALESCING PUMPS:
Conventional centrifugal pumps are known to break oil droplets while pumping produced water. The consequence is that the efficiency of downstream produced water treatment processes is reduced. Often positive displacement pumps, like eccentric screw pumps are used to counteract oil droplet breaking. Drawbacks of positive displacement pumps, however, are often high maintenance requirements and limited operational window.

Typhonix has together with the oil companies ENI, ConocoPhillips, Statoil, GDF SUEZ and the Research Council of Norway, developed separation friendly centrifugal produced water pumps. The low shear/coalescing centrifugal pumps are developed for produced water applications and through extensive testing Typhonix has shown that it is possible not only to make a pump which does not break droplets, but also enlarges oil droplets during pumping. Due to the robust design in accordance with API 610 these pumps have large OPEX benefits compared to low shear positive displacement pumps.

The Typhonix pumps are manufactured by a certified API 610 pump manufacturer in Germany.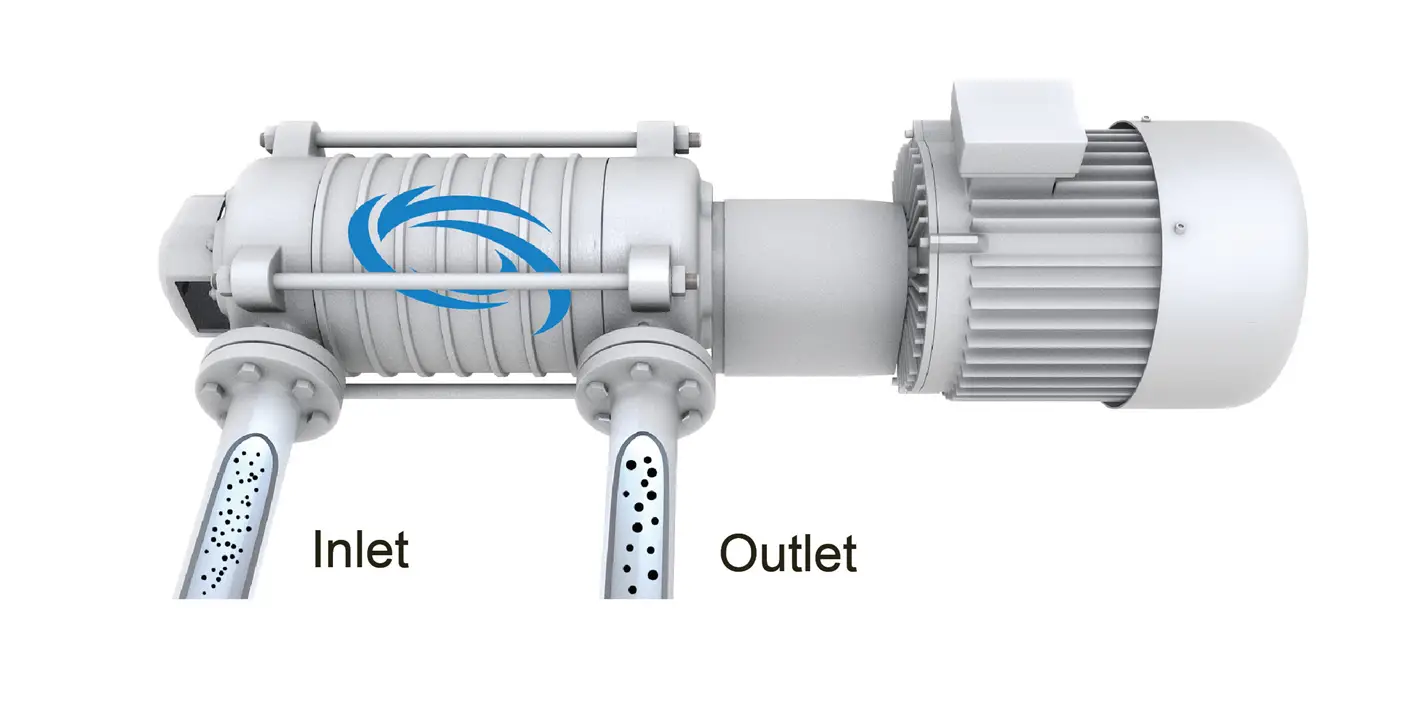 User benefits:
The benefits for the end user are 1) more energy efficient produced water treatment, cleaner produced water and reduced oil and chemical discharges to the sea, and 2) more energy efficient water flooding by less broken injection chemicals, improved produced water injection efficiency, increased oil production and less emissions into the air. 
 
CUSTOMER VALUE:
The Typhonix Pump improves the efficiency of petroleum process separators.
The Typhonix Pump has a robust design in accordance with API 610 and therefore has a lower OPEX and MTBF compared to many positive displacement pumps.
Contrary to positive displacement pump the Typhonix Pump does normally not require any blocked outlet protection, i.e. a PSV
The Typhonix Pump improves separation efficiency without resorting to chemicals or additional treatment equipment.
The Typhonix Pump contributes to a cost effective and environmentally friendly separation process.
When it comes to pumping of produced water streams to water treatment equipment, an increase in droplet size will have a positive effect on the separation efficiency.
Frequently asked questions
How does the technology work?
What are the application areas for the pumps?
What are the Benefits of the new Coalescing pump?
Are there any specific maintenance criteria?
Read more