New Typhonix test centre at Bryne
This summer Typhonix has moved to new premises at Robotveien 8.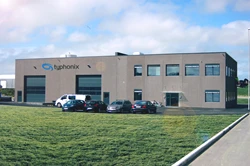 The new Typhonix Test Centre has been planned for a couple of years and should meet the company`s need for space for the next years. In addition to customized laboratory test facilities it will also be the new head office of the company. The test center will give us new opportunities when it comes to development of next generation low shear process technology says CEO Ole Jørgen Engelsvoll.