PhD study on Typhonix pump technology
The Italian PhD student Alessandro Nocente is committed to a PhD study at NTNU on the Typhonix pump technology.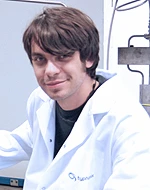 The main objective of the pump development program is to develop and test a new, separation and energy efficient centrifugal pump for petroleum applications where the first target applications are produced water pumps. Allessandro is working on optimization of the internals of the pump where he studies the flow of liquids inside the pump diffuser. His aim is to simulate the flow conditions in various diffusers in order to find the design that promotes the coalescence of oil drops. - I have started with numerical simulations. Soon the first diffusers will be ready for testing, says an excited Nocente.