Typhoon® Valve System:
Typhoon® Valve System is developed to reduce shear forces and thereby droplet break-up and emulsification of oil and water. Typhoon® Valve System has, through several years of experimental investigations, documented a significant positive effect on downstream separation, improving oil and water quality. Typhoon® Valve System can replace both a conventional choke and control valves.
PERFORMANCE COMPARISON:
By decreasing pressure more gently, Typhoon® Valve System improves oil-water separation. The results from various tests and field installations show that performance improvement is observed across a wide range of process conditions and fluid compositions.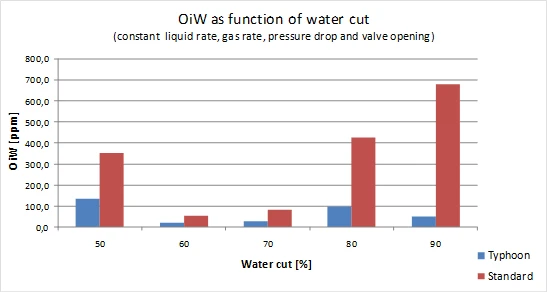 User benefits:
The business benefits of using Typhoon® Valve System are:
Improved oil and water quality
Cost efficient separation system debottlenecking
More compact separation systems
Increase separator capacity
Longer production of high WC wells
Reduced need for separation enhancing production chemicals
The Typhoon® Valve System is designed and manufactured by the leading international supplier, Mokveld Valves BV. Typhoon® Valve System is designed to easily replace conventional chokes or control valves, both axial and angled valves.
Replacing today's conventional valves with the new Typhoon® Valve System offers a cost efficient solution to enhance separation efficiency and reduce environmental impact with regards to produced water discharge.
Where to use it?
Typhoon® Valve System is a flow control system like any conventional choke or control valve. Typhoon® Valve System is therefore considered for use in all applications where standard valves are used today. In optimizing oil-water separation, Typhoon® System can advantageously replace conventional choke or control valves located upstream main separation equipment or produced water treatment equipment, i.e. upstream large three-phase separators, hydrocyclones, degassers, flotation units, etc.
Frequently asked questions
How does the technology work?
What are the Typhoon® Valve System´s applications?
Is it possible to replace existing valves with the Typhoon® Valve System?
What is the capacity of the Typhoon® Valve System?
Read more